Young Living
Animal Scents® Dental Pet Chew
Retail: $25.99 USD
Wholesale: $19.75 USD
Stock Number: #5761
You love your pets like family, so of course you want to sharethe goodness of Young Living with them! Animal Scents®Dental Pet Chews are tasty treats that support oral health withspecially designed ridges that gently remove buildup on yourpet's teeth. Oral care is just as important foryour furry friends as it is for you, and now maintaining a happyand clean mouth is as simple and easy as tossing your pet an AnimalScents Dental Pet Chew!Because we know you want to give your pet the very best, we madethese snacks without artificial colors and flavors. Sound likesomething you and your pet can agree on? Support yourpet's oral care with this simple snack!A portion of all proceeds from Animal Scents products goes tosupport Vital Ground, a nonprofit organization dedicated toprotecting the habitat of grizzly bears and other wide-roamingwildlife.
This product is intended for intermittentor supplemental feeding only. For 20+ lb. pets: give 2 chews perweek. For 5-19 lb. pets: give 1/2 a chew 2 times a week. Adjustdiet as needed to accommodate this chew. Consult a veterinarian forpets that are pregnant or under 5 lbs. before use.
Ingredients
Potato starch, Pork gelatin, Dried plain beet pulp, Rice syrup,Pea fiber, Coconut oil, Calcium carbonate, Salt, Natural poultryflavor, Sunflower lecithin, Glycerin, Dried kelp, Dill, Parsley,Mixed tocopherols (preservative), Green tea extract, Rosemaryextract (flavor), Spearmint oilContains coconut/palm ingredientsClick the image below to enlarge.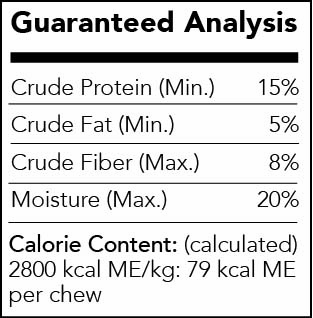 Young Living May Promotion!
Cautions & Disclaimer
*These statements have not been evaluated by the Food and Drug Administration. Young Living products are not intended to diagnose, treat, cure, or prevent any disease.

*Keep out of reach of children. If pregnant, nursing, taking medication, or have a medical condition, consult a healthcare practitioner prior to use.

*Modern scientific research has not yet validated these traditional claims.
Are You Living With Toxins?
The average American home contains dangerous amounts of toxic chemicals. The good news? You can change your home, and we have FREE tips to get you started!